Xmas Review Roundup
Thursday, December 26, 2013
I count myself extraordinarily blessed to have had such good reviews of Twinmaker. Huge thanks to everyone who read the book and took the time to spread the word. That's the best Christmas present of all! (The reviews, not the book – although the book would make a pretty good present, I reckon. <g>)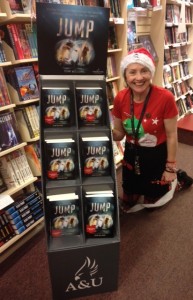 Sara Crawford listed it among the five books she loved most in 2013:
"I think the thing I liked most about this book though is that it examined some questions regarding the morality involved with technology. Should we be able to improve ourselves? Should we be able to essentially copy organic matter? Are we more than just patterns of codes? Williams examines all of these questions in a skillful way in this page-turning novel that left me wanting to pressure him to hurry up with that sequel already."
Kristy at Book Nerd Reviews gave it four out of five:
"Jump is full of action, conspiracy and interesting characters. There were some great plot twists throughout Jump, with the ending throwing another one your way to open up for the sequel Crash. This futuristic world is well developed and thought out, the lifestyle is embedded into this society, and there are rules to this amazingly crafted world… but some are willing to break them."
Jenny at The Books, The Art, and Me liked it too:
"I haven't read much sci-fi before this, but I loved this book, and am very excited to see where this series goes next."
(Twinmaker gets that a lot, which is great.)
Michelle at Much Loved Books took a while to get through it but had positive things to say:
"The last few chapters of Twinmaker had me gripping the book so hard I was scared I was going to break it, my nerves were at a high point and the question 'what is going to happen now' was always in the front of my mind. The ending was not something I expected, in a good way, but I am disappointed at how the last page ended, I would have liked a bit more closure. However I am interested in seeing where Sean can take this world now and see how decisions that were made affect others in the next book."
And finally the awesome Nalini Haynes of Dark Matter Zine also gave it four out of five:
"I highly recommend this novel for readers of YA (Young Adult) novels, middle school students and older."
Thanks again to everyone who took the time to review the book. Please spread the word! In thanks, something special is coming in January. More soon.
(The photo, btw, is of the excellent Linda at Dymocks Books in Rundle Mall, my home town of Adelaide, where the book has been selling well. Thanks, guys!)