Coming Up
Thursday, March 27, 2014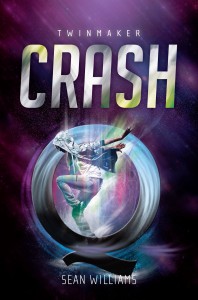 In the weeks ahead I'm going to be concentrating on two things: writing Hollowgirl (aka Fall) and touring Spirit Animals 3: Blood Ties and Troubletwisters 4: The Missing (aka Missing, Presumed Evil) with Garth Nix. I'll also be editing the final pages of Crashland/Crash, when they come through. But that doesn't mean this site will be neglected. Oh no!
Starting in a couple of days I'll be posting DELETED SCENES from Twinmaker – moments from early drafts that didn't make it into the final cut. There's action, emotional crises, odd little jokes – the works! So keep an eye out for that.
And if you're new to this site, you'll find lots of other Twinmaker-related stories here, all accessible via this page right here. (The most recent are here, here, and here.) There are more to come! In May, there's "The Cuckoo" over at Clarkesworld Magazine and "The Tyranny of Distance" from SQ Mag, plus I'll have something in April right here. Details to come.
Happy reading!