New Story: "All the Wrong Places"
Tuesday, December 1, 2015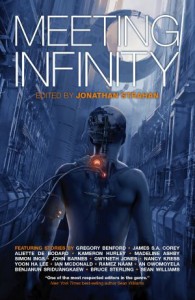 Jonathan Strahan's newest and most fantastic anthology, Meeting Infinity, is out now.  Early reviews have been terrific. It contains a Twinmaker story, "All the Wrong Places", which (like "Incomplete No.7" and the forthcoming "The Lives of Riley") is the kind of love story only d-mat would allow. It begins one generation after Hollowgirl. Here's an excerpt
---
People were well over their fears of matter transmitters by then. D-mat had bugs, yes, small errors that were about as dangerous as being hit by cosmic rays, but its convenience trumped everything.
Want to go to the Moon? Fine! Wait a year and we'll have booths on the moons of Jupiter, too.
I'll admit I dragged my heels before following Cate. She wasn't answering my messages, and I knew she might not appreciate me showing up out of the blue to apologise, repair the damage, start again from scratch – whatever I had in mind. Still: impulsive, remember? I just couldn't let her go without a fight, sufficiently so that moving from Earth to the Moon seemed like a perfectly reasonable idea, despite me never having had any interest in space before that.
Cate did. She told me of her dreams one night in the middle of an Australian desert, far over the horizon from the nearest d-mat station. I was following the transits of satellites, using my lenses to track the ones that weren't visible to the naked eye. There was so much hardware in the sky, orbits webbing like the work of giant spiders, it was amazing Cate could see anything at all.
"That's where I want to live," she said, pointing out and up.