Teleportation & Writers of the Future 32
Monday, April 25, 2016
I won a prize in the WOTF contest in 1992 and attended the workshop and awards ceremony in 1993. My story was published in Volume 9 of the annual anthology and was at that stage my highest-earning piece of fiction, by a long way. In 2003, I was invited to write an essay about life ten years after my WOTF experience, in which time I had become a full-time, New York Times-bestselling novelist. In 2005 I became a judge, one of the contest's first two international judges, with Robert J Sawyer.
Now I'm adding a new feather to my WOTF cap: a story in Volume 32, alongside the wonderful stories by this year's winners.
And it's a story featuring teleportation. Bonus!
"The Jade Woman of the Luminous Star" is a reprint (first published in Ghosts by Gaslight edited by Jack Dann and Nick Gevers) but it's one of my personal favourites. I'm really pleased it's reaching a wider audience. It starts off looking like a Victorian ghost story and ends up somewhere quite different – a steampunk multiverse mystery set in a whole new vision of the solar system. It's also a seed for a book, Liminus, that I'd really like to write one day.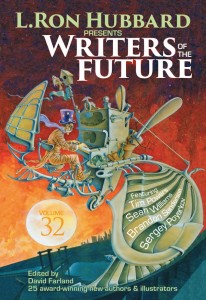 One of last year's winning artists, Daniel Tyka, provided the beautiful internal art, above. The cover of the anthology (below) is by Sergey Poyarkov, himself a winner twenty-five years ago. If you click both you'll see them in much finer detail (something I highly recommend).
The Writers & Illustrators of the Future Contest is a wonderful opportunity for new artists of the fantastic world-wide. It made a huge difference to my career, inducting me into a community of amazing, talented people – a family that just keeps on getting bigger. If you're aspiring to create in this field, it's definitely worth checking out.