Twinmaker Readings Next Week
Friday, February 6, 2015
If you're in Adelaide and you'd like to hear me read from Jump and one of the bonus short stories, you're in luck!
February 12 – I'll be with a cohort of other contributors to the anthology Breaking Beauty (Heather Taylor Johnson, Lynette Washington, Reg Taylor, Rosemary Jackson) at the Hamra Centre Library, which used to be my local library way back in the day. Memories! I'll be reading "The Beholders", my story in that collection, which is all about getting old and staying beautiful even as you get revenge.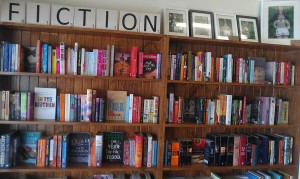 February 14 – Yes, Valentine's Day. UPDATE! Unfortunately, this event has been cancelled due to catastrophic heat. From 11am I'll be at the Mockingbird Lounge (awesome secondhand book store/cafe down at Glenelg) with a deliciously romantic crew, including Heather Taylor Johnson (she is everywhere), Katrina Germein, Liz Harfull, Kate Douglas and Stacey Grigg. I'll be reading one of my  favourite romantic scenes from the Twinmaker books plus the best love story ever (by Caitlin R. Kiernan, not me). Come along and be wooed by words!
Oh, and then I'll be in Perth the following week for their glorious writers' festival. Details of all my appearances here.
(Photo appropriated from the Mockingbird Lounge Facebook page, which you'll find here.)