New Story: "Murdering Miss Deboo"
Saturday, November 15, 2014
Out now in Cosmos, a brand new Forest and Sargent mystery, giving us a glimpse of d-mat's creators, plus muscle cars. What more could a Twinmaker fan want?
Here's the opening:
---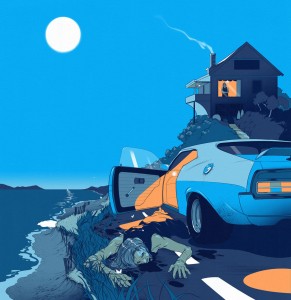 There are very few things that'll get me out of bed on a winter's night. Murder is one of them.
"Where?" I bumped the Inspector, doing my best to get into uniform without disturbing Billie. My girlfriend is a face sculptor who loves her beauty sleep. Go figure.
"Treebones House on the Big Sur coast." The Inspector sent me the details. "I will be there in five minutes."
The contents of the case file were already skimming down the inside of my lenses, filling my infield with dates and times. The preliminary suspect was the victim's closest family member. Glancing at the images, one thing immediately stood out.
"They're the same person." I went hunting for my left boot and almost tripped over it. "She copied herself and then killed herself? Is that why we're involved?"
"Look again," the Inspector bumped back.
"Huh, they're twins."
---
Oh yeah, twins! It's about time.
Check out the art by Andrew Archer. Isn't it great?
Reminder: there are a metric ton of new Twinmaker stories available right now, celebrating the release of Crashland. Head here for more details.
Also: Don't forget the newsletter. Exclusive stories, reviews of books I'm reading, plus recipes. Not all of them involve sprouts – honest. Sign up here!