Ditmar Award-nominated "The Legend Trap" and other stories on sale!
Tuesday, March 31, 2015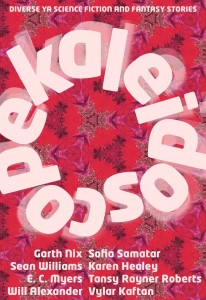 To celebrate Kaleidoscope's nomination for a Best Collected Work Ditmar Award, plus numerous Aurealis and Ditmar nominations for individual stories (including those by Tansy Rayner Roberts, Garth Nix, Faith Mudge, and Dirk Flinthart – and me) the e-book is on special for the awesome price of just $2.99. That's a saving of 70%. Get it while it lasts!
And remember, if you're a member of the National Australian Convention next weekend you can vote for Kaleidoscope and "The Legend Trap" if you want to. No pressure. 🙂