Launch: BREAKING BEAUTY (inc. new Twinmaker Story)
Friday, November 7, 2014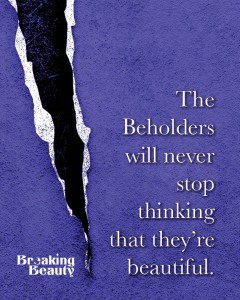 Tonight I'm DJing at the launch of MidnightSun's anthology Breaking Beauty, edited by Lynette Washington, which contains my Twinmaker story "The Beholders". Here's the opening paragraph:
"My aunt once told me a story about a friend of hers who belonged to a group called The Beholders. They weren't a clique or a cult or anything like that. They didn't even start out to become anything at all. They had only one thing in common, which was their vanity."
(You can tell from the style that it started out as an urban myth, in the vein of "The Ghost of What Might Have Been", and in fact Twinmaker itself. D-mat really lends itself to explorations of beauty.)
The launch is 6:30 at The SA Writers' Centre (Adelaide, SA). Details here. Sharon Kernot will be smashing the bottle of bubbly across the bow. Come along if you can!
PS. A quick reminder that there's an event at Stefen's Books in Perth next Thursday to celebrate the launch of Crash. Details here.