Blog Tour: Kirstyes
Wednesday, November 20, 2013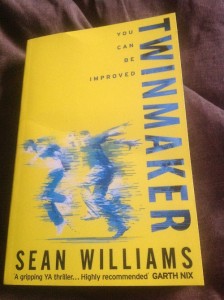 Bored of interviews with me? How about an interview with Clair, main character of Twinmaker? You can have both, thanks to Kirsty Stanley (and a small excerpt from my PhD to boot).
Me:
"The reader brings their own baggage to every novel. I can't control that side of the process, and I don't want to. I love it when people mentally elaborate on what I've written, just as I've done to very book I've read. Clair is African American, but she doesn't have to be for the story to work, in the same way that Gemma has an Indian background (i.e. from India, not Native American) and Mallory is ABC. Twinmaker isn't a book about race, but it is interested in how we perceive people, including ourselves."
Clair:
"My friends are the most important thing in the world to me. I wouldn't accept that I could only choose [to save] just one. Try to make me and you'll regret it!"
Thanks to Kirsty for the chance to explore Clair's voice off the page (she does have more to offer than threats, honest!).