Review Crashland, get a freebie!
Monday, November 10, 2014
You can't get much clearer than that. Rate or review Crashland and I'll shower you with gifts! Conditions? (1) It doesn't have to be a good review. (2) I'd prefer it if you actually read the book first. That's it. And what the hell – let's make it Twinmaker too. I'm keen to get the word out, and if you help me I'll show my gratitude with words.
To whit: I've amounted quite a lot of author copies down the years. Below is a list of what's available. First come, first served.
PS. No need to give me proof. I do love seeing good reviews, though, so if you have one feel free to send me the link. This giant ego doesn't stay up on its own.
PPS. Oh yeah, to tell me you've done your thing and what token of my appreciation you would like, use any of the contacts over on my other website. Easy!
---
Acting on the assumption that you already have the two books in the series (but if you haven't, I have some of those too) . . .
Doorway to Eternity – Where it all started: my first book. Contains two short stories and one novella, one of them "New Flames for an Old Love" that was in a way the seed story for Crashland. Numbered and very, very rare.
A View Before Dying – A small, limited edition collection of my first three d-mat stories, "New Flames for an Old Love", "On the Road to Tarsus", and "A View Before Dying".
The Resurrected Man – My first novel about d-mat, big, fat and nasty. I have this in the Australian paperback edition, cover by Shaun Tan.
Eidolon #15 – The legendary Australian magazine that kickstarted a bunch of careers, including my own. This issue contains "On the Road to Tarsus", a d-mat story with art by Shaun Tan.
Armored, edited by John Joseph Adams – Stories about power suits, with my "The N-Body Solution" being another twist on matter transmitters gone bad.
Tales for Canterbury, edited by Cassie Hart and Anna Caro – Contains "The Seventh Letter", no relation to The Crooked Letter.
Devil Dolls and Duplicates in Australian Horror, edited by Anthony Ferguson – Contains novella "The Girl Thing" in its only appearance in print.
100 Stories for Queensland – Contains "This Magical Life".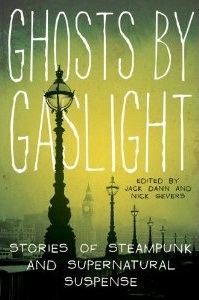 Ghosts by Gaslight, edited by Jack Dann and Nick Gevers – Steampunk ghost story collection containing "The Jade Woman of the Luminous Star".
The New Space Opera 2, edited by Gardner Dozois and Jonathan Strahan – Contains space opera yarn "Inevitable", set in the same world as "A Map of the Mines of Barnath".
50 Voices of Disbelief: Why we are atheists, edited by Russell Blackford and Udo Schüklenk – Contains my essay "Doctor Who and the The Legacy of Rationalism".
Australis Imaginarium, edited by Tehani Wessely – Contains one of my most-loved stories "Passing the Bone".
The Tangled Bank: Love Wonder, and Evolution, edited by Chris Lynch – Contains my epic poem sequence "The Origin of Haiku by Means of Natural Selection, or The Preservation of Favoured Renga in the Struggle for Meaning".
Godlike Machines, edited by Jonathan Strahan – Contains my humongous novella "A Glimpse of the Magnificent Structure (and the Threat it Entails)", set in the same world as "A Map of the Mines of Barnath".
The Year's Best Australian Science Fiction and Fantasy: Volume Two, edited by Jonathan Strahan and Jeremy G Byrne – Contains "Love and Mandarins" and "The Masque of Agamemnon" (co-written with Simon Brown).
I also have stacks of various entries in the Troubletwisters series (co-written with Garth Nix) in print and audio editions. Plus some odd book twos of the space operas I wrote with Shane Dix, although I'm not sure who'd want them. People who've read them in e-book versions, perhaps? Anyway, if you do, they're yours!