Crashland – first reviews
Thursday, October 23, 2014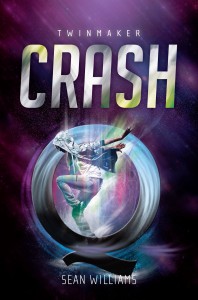 They're good so far, touchwood! (Not that I'm superstitious or anything. Force of habit.)
Booklist loved Twinmaker so I was eager to see what they said about the sequel. They didn't let me down (warning: spoilers for Twinmaker):
Williams brings back the girl who broke the world and gives her a whole new set of complications in this thrilling futuristic follow-up to Twinmaker (2013). After bringing the planet to a screeching halt, Clair Hill begins to see the horror that the replication machines have wrought. An infinity of duplicates swarm the earth, wreaking chaos and mayhem while Clair attempts to find Q, the artificial intelligence who could save them all. Williams explodes the narrative he set up in the first novel with deep philosophical questions about the power of technology. While some use d-mat tech to heal people, others struggle to figure out to whom the consciousness inside a duplicate belongs, and still others realize that duplication is an excellent way to consolidate and maintain political might. The story powers on to a relentless, shocking conclusion that will leave readers howling for more.
Howling, I tell you. So brace yourself.
Karl of Kiwi Reviews gave it an awesome 9.8 out of 10:
Because of the clear parallels between the world we live in and Clair's world, this story really resonated with me. I loved how it could easily be read by kids as a great story with lots of action, tension, thrills and spills… or it could be equally appreciated by adults as an allegory of our data-centric global society in the so-called first-world nations. Such a story is a rare gem indeed, and I would not be in the least bit surprised to see this story arch forming the basis of a new movie series in the not-too-distant future.
So two out of two so far. Thanks to Karl and Booklist! Fingers crossed it continues. (Damn, did it again.)