Twinmaker at the ABDAs
Thursday, April 23, 2015
I'm stoked that Astred Hicks' design work for the Twinmaker series is up for an Australian Book Design Award. Greatly deserved! I love these covers, and also the abandoned "d-mat cat" version from her blog that I've posted before: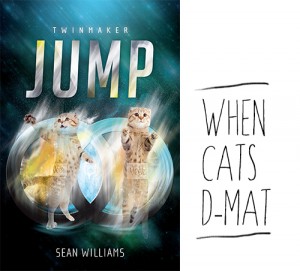 Best of luck to Astred and everyone at Allen & Unwin. They've worked so hard on these books. I feel incredibly lucky to have them on my side!
And for those assuming that these books are entirely fiction, these two articles might make you wonder. Could there already be dupes among us? Hmmm . . .